Planetary grinding belt machine TP 80 and TP 80-S
The machines are suitable for grinding tubes with circular and elliptical cross-sections. The special thing is that even bent tubes can be ground on these machines.
This system guarantees that the workpiece is ground on the entire surface of its perimeter. The micrograph corresponds to the grain size of the abrasive film used. By using grinding belts with a grain size of 40 to 800, a wide range of grinding patterns is possible, which can be selected depending on the purpose and use of the workpiece.
All rotating parts are mounted in closed ball bearings, lubricated with grease and equipped with tested safety devices.
The sanding belts can be exchanged easily and quickly, either when they are used up or because they need to be exchanged for a different grain size. The machine works in dry grinding, but it is better to use the built-in wet grinding device to immediately bind and remove the grinding dust that occurs during the grinding process. Optimum grinding results are generally achieved by using the wet grinding process. In addition, wet grinding guarantees cooling of the workpiece.
The ease of use and the speed with which the work is carried out make the TP type tube grinders a must-have for all industries that work on tubes.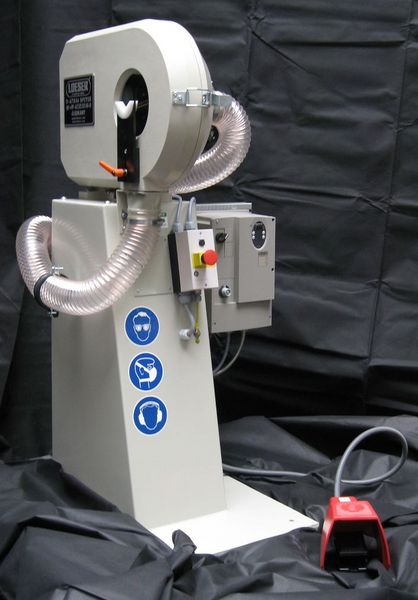 Cylindrical grinding TP 80 / TP 100 application video
---
Technical data TP 80 up to Ø 80 mm / TP 100 up to Ø 95 mm
| | |
| --- | --- |
| Motor | 2,2 kW |
| Revolutions per minute | 1.450 U/min. |
| Voltage | 230/240 V |
| Maximum tube diameter | 80 mm |
| Grinding belt | 740 x 30 mm |
| Wet grinding facility | included |
| Height | 1.260 mm |
| Length | 800 mm |
| Width | 500 mm |
| Weight | 162 kg |
| Available with stepless speed control as Model-S | |
Technical data described is not binding. All technical modifications carried out for progress are reserverd by us.